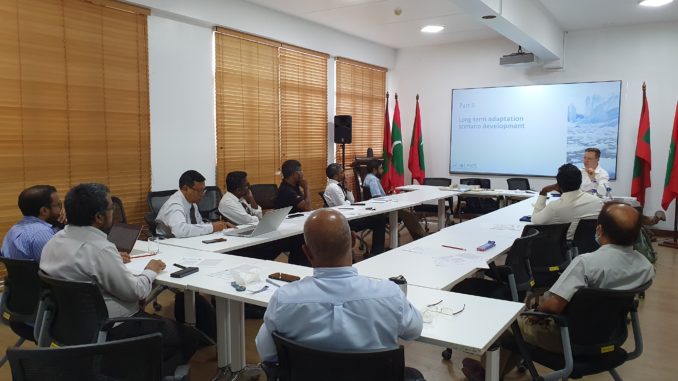 Geronimo Gussmann and Vanessa Völz (Global Climate Forum) held a stakeholder workshop at the Ministry of Environment in Malé, Maldives at the end of May.
The aim of this workshop was twofold. First, local stakeholders in the Maldives were presented with research findings from the PROTECT project, which provides valuable information for shaping adaptation policies. Local sea-level rise projections and thresholds for Malé were communicated and a decision-support framework that supports the planning of land reclamation with respect to location and elevation height was presented (PROTECT contribution number 65).
The second aim of the workshop was to engage with the local stakeholders to produced expert knowledge for ongoing research within PROTECT. The stakeholders were asked to identify trends that are crucial for the future development of the Maldives and the ability to adapt to rising sea levels. This input will be used in a forthcoming study to generate potential future scenarios for the Maldives in the year 2100 across all crucial societal factors.