Find here the policy-briefs produced by PROTECT or in collaboration with other projects.
---
PROTECT policy-briefs
November 2022
When will a 2-metre rise in sea level occur, and how might we adapt?
PROTECT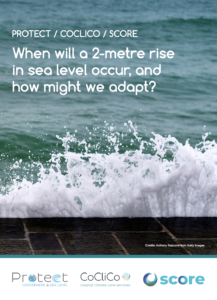 , CoCliCo and SCORE have co-written a policy-brief about 2-m rise in sea level. Read here the key messages and find below the full policy-brief.
A 2-metre rise in sea level is almost inevitable. The uncertainty is on the timing, somewhere between one century and the next two thousand years depending on polar ice sheet melting and which socio-economic pathway we follow. Exceeding 2 meters of sea-level rise will fundamentally change European coastal zones.
Europe and National States can recognize that coastal adaptation is an ongoing process that involves short-term actions, long-term planning and strategic thinking.
Three actions are urgently needed to limit losses, damages and lock-ins:
Massive and immediate reductions of greenhouse gas emissions

in order to slow down sea-level rise, limit the amplitude of sea-level rise in the long term, thus giving more time and options for coastal adaptation.

Engagement into

adaptation for multiple metres of sea-level rise

, including preparing the ground for adaptation, identifying challenges and options, monitoring trends and implementing options with high cobenefits.

Support to science and climate service development to

reduce uncertainties

in future sea-level rise,

assess risks and associated adaptation options

and

provide useable information and climate services to coastal adaptation stakeholders.
Download a printable version in English
Download a printable version in French
---
Contribution of PROTECT to other Policy-briefs
16 October 2023 – 2-4 pm CEST
Tipping Points in Antarctica: Towards Evidence-Based Policy┃Brussels 2023
The event is co-organized by EU-funded projects TiPACCs, OCEAN:ICE, SO-CHIC, PROTECT,and the EU Polar Cluster, EU-PolarNet 2 and European Polar Board.
3 May 2023
Recent changes in the Antarctic and their impacts on Europe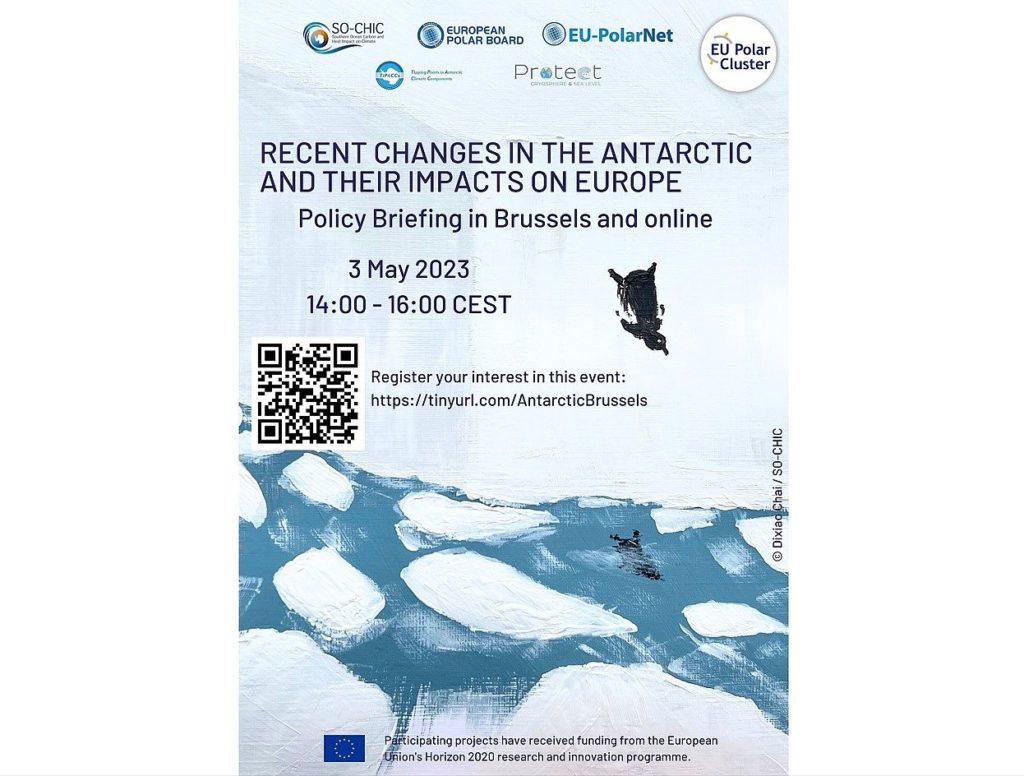 More information here
This event is organised by the EPB with Horizon2020-funded EU Polar Cluster projects SO-CHIC, EU-PolarNet 2 with TIPACCS, and PROTECT. The event takes place in the context of increasing pressure on the processes regulating ocean circulation, increased melting of Antarctic sea ice and ice shelves, and increasing scientific awareness of the importance of the region to Europe. Our goal is to present relevant insights to European policy makers on the importance of the Southern Ocean and the Antarctic to Europe, for example, via potential input to sea level rise. We aim to highlight the accompanying implications for European policy and Antarctic research.
November 2021
Polar warming, global warning – COP26 EU Pavilion side event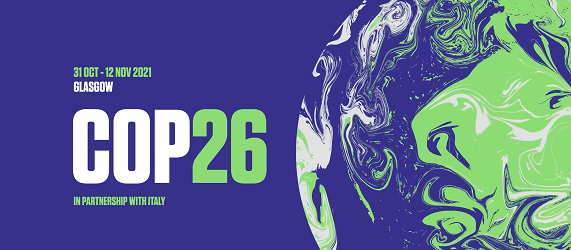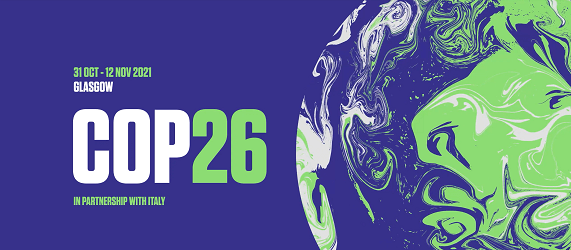 This session was organised by Cluster Members EU-PolarNet 2, SO-CHIC, PROTECT, TiPACCs and the EPB, and representatives from the Alfred Wegener Institute, British Antarctic Survey, the Université libre de Bruxelles, and the University of Grenoble.
Presentations
| Topic | Presenter | Institute |
| --- | --- | --- |
| How does the European research policy support polar research and international assessments such as the IPCC? | Larisa Lorinczi | European Commission |
| Sea level rise: what is at stake beyond 2°C? | Prof. Frank Pattyn – PROTECT | Université libre de Bruxelles |
| How much can we limit losses from the ice sheets this century? | Dr. Tamsin Edwards – PROTECT | King's College London |
| Antarctic biodiversity under pressure: a race against time | Asso. Prof. Bruno Danis | Université libre de Bruxelles |
| Tipping points and sea-level rise | Prof. Ricarda Winkleman – PROTECT | Potsdam Institute for Climate Impact Research |
| Polar science highlights policy needs | Prof. Dame Jane Francis | Director of the British Antarctic Survey |
The recording of the event is available to rewatch here: https://youtu.be/5JKaoyiISHM